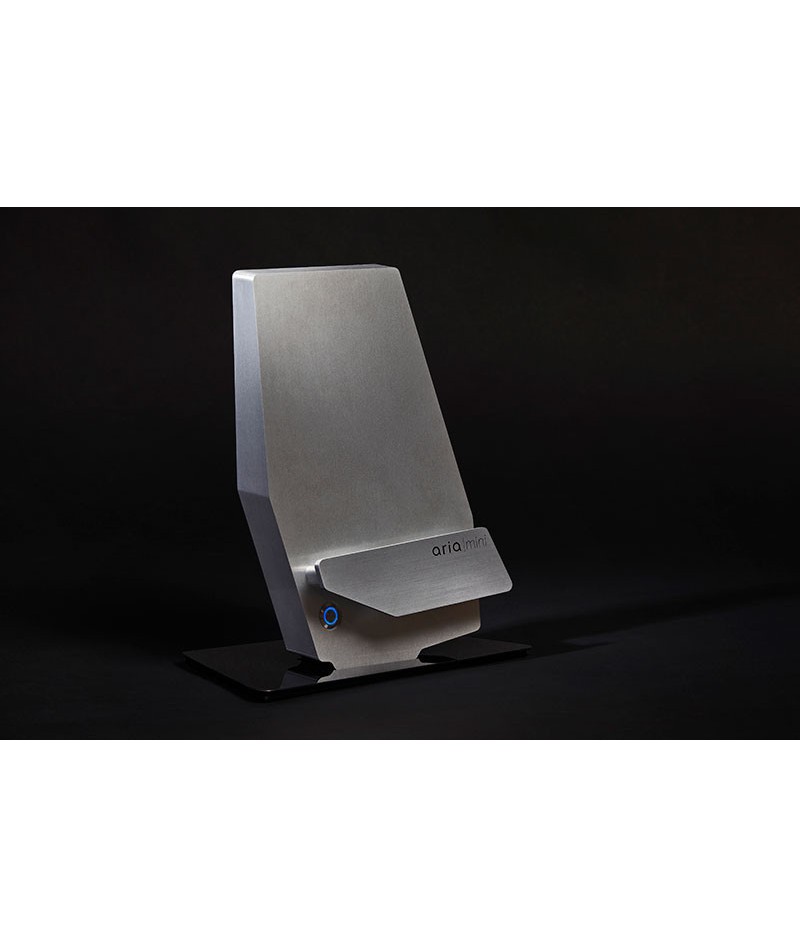  
Digibit Aria Mini Server -1TB SSD
aria mini is a compact and more affordable music server version of our higher performance aria. Our new aria mini has inherited the genes of its "big brother aria", it incorporates a stand for Tablets, it's fanless, supports an on board capacity up to 2TB and includes a DAC supporting PCM music files up to 32 bits and 384 kHz (DXD), and DSD64/128. aria mini is compatible with AirPlay™ and DLNA™ and, like the original aria, supports extended metadata fields for all music genres and is fully automatic for populating a wealth of classical music detail.
Delivery - FREE delivery Australia wide!

Demo's - should you require a demo please contact us!

Pricing - some items are listed at RRP, call to discuss better prices!
Features • Easy to use - just open your Tablet and start playing music • 100% silent operation • 2TB* (HDD) or 1TB* (SSD) internal storage • Multizone support • Fully automatic CD Ripper* (insert & rip), with external DVD* • Best metadata retrieval in the market with auto access to 5 databases • Bit Perfect digital audio • Support for up to 32bit/384KHz PCM/DXD music files and DSD 64/128 • Digital (USB) and unbalanced analog RCA outputs • Compatible with Airplay™ and DLNA™ • Supports storage expansion * through wifi connected network
Specs Sometimes dreams come true www.ariamusicserver.com • Slim all aluminum fanless case • Custom industrial grade, ultra low-power computer board • Switchmode Power Supply (external) • Linear mode Power Supply (Optional) • Digital Audio Outputs: USB 2.0 • Analog Audio Outputs: 2 x RCA (unbalanced) • Optional HDD or SSD and DVD-R DAC • Sampling frequency: PCM 44.1 to 384kHz, DSD 64 to 128 • PCM resolution: 16 to 32 bits • Frequency response: 5Hz to 75kHz (fs 384kHz or DSD128) • DAC: 32Bits- 384 KHz and DSD64/128 • SNR: 106dBA • THD+N: 0.003% • Output voltage: 2.0Vrms @ 0DBFS • Output impedance: 0,5 Ohms • Clock precision: 10ppm 0°C to 50°C, 2.5ppm typical @ 25°C • USB link: async, USB 2.0 Audio class compliant
SOFTWARE RIPPING • Fully automatic CD Ripper (insert & rip) with external DVD* • Error correction and AccurateRip audio check • Internet access to premium databases: AMG, GD3, SonataDB (Classical), Freedb and Musicbrainz • PerfectMeta software picks and merges metadata results from each database to bring you the best metadata results in the industry • Extended metadata fields support (up to 18) for all music genres: Composer, Period, Instrument, etc., a unique feature, and still a market first available for any genre with manual tagging • Fully automatic extended metadata tagging for classical music PLAY • Gapless playback • Crossfade in playback • Play files from memory • Multizone streaming using UPnP/DLNA compatible renderers • Play from an external NAS option • Play to Tablet and any other compatible device • Stream any music service from your Tablet AUDIOPHILE CHARACTERISTICS • Support for uncompressed (WAV, AIFF) and lossless formats(FLAC, ALAC) • DXD (32bit/352.8KHz) file Support • DSD64 and DSD 128 file support • Bit Perfect support (ASIO, ASIO 2.1, WASAPI and Kernel streaming)