Back

Products

TURNTABLE, PHONO, CARTRIDGE

TURNTABLE, PHONO, CARTRIDGE

About us

Melbourne Professional Audiophile Retailer Since 2004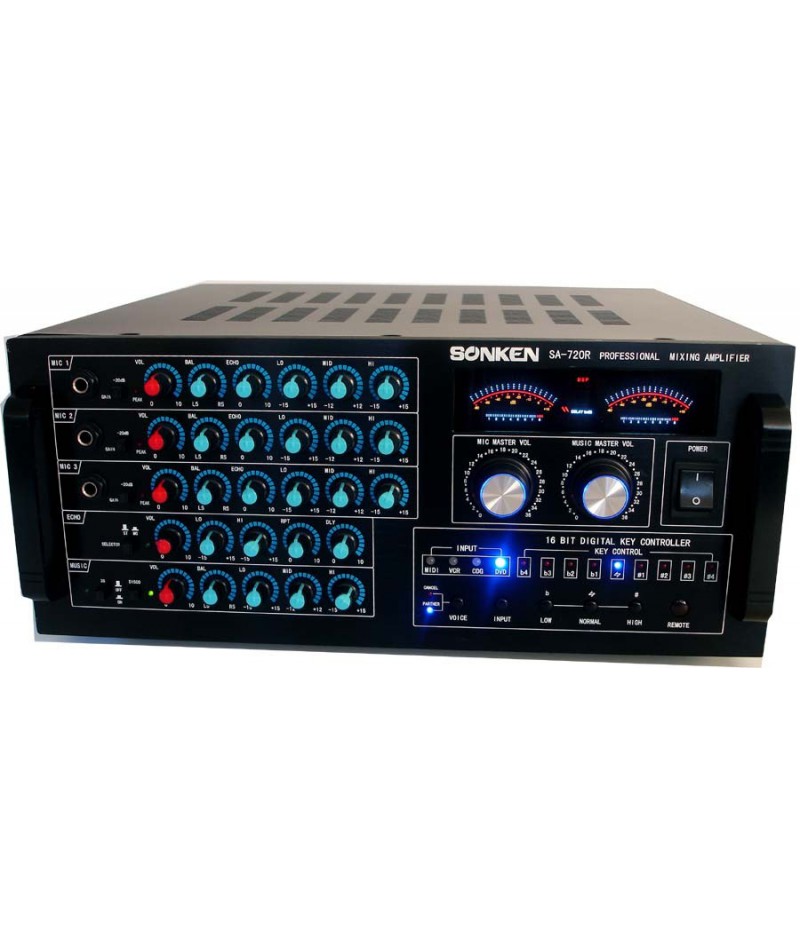  
Sonken SA-7200R
If you are looking for the professional karaoke mixing amplifier for your bar or club, look no further than Sonken SA-720R 600 Watts Professional Digital Mixing Amplifier.
Delivery - FREE delivery Australia wide!

Demo's - should you require a demo please contact us!

Pricing - some items are listed at RRP, call to discuss better prices!
Designed by German engineer, Sonken SA-720R is known for its quality and durability. This professional mixing amplifier was built to sustain continuous usage at maximum wattage output.  It is a perfect companion for DJs and KJs who are seeking for a reliable component that will carry them throughout the long night without the nightmare of equipment failure.
It is also equiped with led UV level display, which makes you sound quality control easier!
Feature
Vocal cancellation is for when you playing Karaoke DVD/VCD disc, the channel with singer´s voice will be cancelled and replaced by the signal of another channel with music only.   Therefore, you would n´t hear  the  original singer´voice but your own voice via microphone and background music.
Specification
Specification:
    * Audio Output: 450W+450W Output @ 8 Ohm
    * Microphone input sensitivity: 0<15mV
    * Frequency Band: 25Hz to 20kHz
    * Dimension: 420mm(W) x 135mm(H) x400mm(D)without             handle / 430mm (D) with handle.
    * Electricity consumption: 550W
    * Ultra Quiet Cooling Fan
    * Designed in Germany
    * Weight: 25 Kg
Microphones
    * 5 x 1/4" Microphone Inputs ( two at rear )
    * Input Signal Attenuators
    * Auto-gain level indicators
    * Individual Microphone Volume Control
    * Individual Balance Control
    * Individual Echo Depth Control
    * Individual Bass/Mid-range/Treble Volume Control
Volume Control
    * Microphone Master Volume Control
    * Music Master Volume Control
Echo Control
    * Depth control
    * Bass control
    * Treble control
    * Repeat control
    * delay time control
Music Control
    * A/B Input Selector from 2 Audio Sources
    * Balance control
    * Bass/Mid/Treble control
    * 11 Step Digital Key Control
    * 2 Music Mode: Disco or Karaoke
Full Function Remote Control
    * Key Control: Normal, Low, High
    * Microphone Volume Control
    * Input Selector
    * Master Music Volume Control